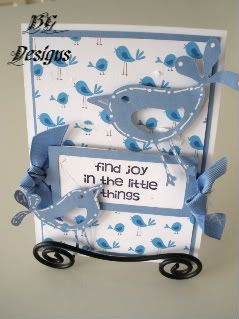 More SU paper!!
Ingredients:
SU Good Morning Sunshine Designer Paper
SU Brocade Blue Ribbon
SU Polka Dots and Paisley Stamp Set
Home Decor Cricut Cartridge- thank you Gina for letting me borrow your new cart. I love this birdie!!
Fabulous Finds Cricut Cartridge- actually this is from the Cricut Sampler Cart that I earned for doing a Provo Craft Survey!